How to Get Organized For Back to School
This post contains affiliate links.
Getting organized for back to school isn't just about helping your child set up their locker and buying a new pencil case. Getting organized for the upcoming school year is an opportunity to set yourself up for success! That means thinking through what you need to do when assignments are due, and how you're going to get it all done. You'll find no shortage of articles telling you how to get organized for back to school, but most are about organizing your locker or desk area. I want to give you the tools and techniques you need to ramp up your planning and organization skills so that no matter what happens, once you get back into school, things will go more smoothly for everyone in the family.
How to get organized for school
Start with a to-do list. School starts in different months for different areas around the country, and we actually started in August. Some schools start in September. Either way, it's important to outline exactly what needs to happen before school starts to prepare yourself and your family. Look up the school supply list, verify any coupons and sales for supplies, and stock up on clothing if needed.
Make things easy to find by labeling everything. Everything needs a label, and everything needs a place. Not only do I suggest labeling school supplies and clothing, you can also label things at home like bins, baskets, and shelves. This helps keep everything neat. I have binders where I can easily place all the documents and papers that are necessary for a specific subject in school or project that we're working on. Labels are also great for organizing materials at home especially in the kitchen, where I can organize boxes of noodles, cans of vegetables, and other stuff that are still useful but need to be kept neat in the proper bins.
With labeling school supplies, it's about more than just convenience; if you don't want your kid to keep losing things or forgetting where they put them, a label is essential. If your child has special needs that make it difficult for them to remember where and when they put away their stuff, then it's even more important not to underestimate the positive impact of a well-placed label.
NameBubbles Label Review
To get this year off on the right track, I ordered a kit from NameBubbles that features all the best labels in one package. These labels were perfect for water bottles, backpacks, supplies, and even clothing. Yes, they have washable and durable clothing labels too! Look for a school labels pack to grab everything you need easily.
Each label was vibrant and thick, so I know they will last a long time. We used them inside his soccer cleats so they don't get mistaken for someone else's along with lunchbox supplies including water bottles and sandwich reusable bags.
Besides labeling and writing a to-do list, there are a few other tips that can help you tackle the beginning of the school season:
Get everything out of the backpack after school: We always bring in backpacks and empty them. Dispose of old snacks and uneaten sandwiches. Sign paperwork, planners, and get ready for the next day.
Get into the habit of returning your library books on time: It never fails, but we seem to misplace a library book or two every year. We try to keep them in the backpack now at all times and only read them at school or on the way to school so we know they aren't lost in our home.
What are your best tips for the school year?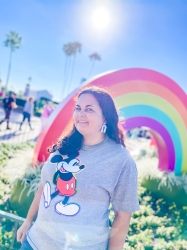 Latest posts by Krystal | Sunny Sweet Days
(see all)