A Powerhouse of a Drink – The Long Island Ice Tea
Have you ever wondered about what draws so many people to ask for the Long Island ice teas when they hang out with friends at a bar or club, or why those same people may find themselves with an achy head the next morning? The cacophony of alcohol may not appear to go together at first glance, but if you add a splash of your favorite cola, voile – a delightful drink that people love. Here are some facts about the amazing mixture that you probably didn't know.
Conflicted Concoction History
While most drinks can be attributed to a single creator, that certainly isn't the case for the Long Island Ice tea. Proponents offer several versions of the creation of the popular drink, and it even comes from different sections of the country. The first tale involves a man named Old Man Bishop from the Long Island housing area in Kingsport, Tennessee, during the era of the American prohibition. He is said to have mixed several types of alcohol with some maple syrup, and the resulting drink looked like the popular afternoon drink, the Ice Tea. Bishop's son Ransom is said to have altered the drink enough to refine it into the popular mixture loved by millions today.
The second version of the creation story claims the drink was created in the 1970s by a bartender in New York's section of Long Island. Robert Butt claims to have mixed the drink for a drink competition. Although there is no collaboration other than Mr. Butt himself, he claims that his drink caught on in the 1980s and became an instant success.
Real Long Island Ice Tea
No matter which version of the Tea's history you want to believe, one thing is for sure, the drink is a powerhouse drink. Containing 22 percent alcohol, the mixtures makes it a highly concentrated concoction that liquor lovers favor. If you want to try mixing up a batch, choose an authentic vodka like Absolut and a real Long Island Ice Tea recipe from allrecipes.com. You will need a wide variety of alcohols to mix with your vodka to create the classic version of this powerful drink. Although lemon is often used as a garnish, you can use anything you desire.
Food Pairings Controversy
Just as the drink's creation is conflicted, so are the pairings that can successfully accompany the high alcoholic mixture. Some claim cheeseburgers, steaks, wings, and hot dogs pair well with the hard-hitting drink, while others claim tomato-based products such as spaghetti, lasagna, or Swedish meatballs are best. In other words, choose what you want to eat because everything goes with the sweet drink.
No matter where the beverage originated, or what food pairs better with it than others, the fact is that millions of people love this beverage. If you find yourself wondering if you should have a second of the flavorful drinks, think again. They are dynamos of alcohol punches that can sneak up on the unwary drinker. Your head will thank you in the morning.
Need more drink ideas? Try a classic bloody mary cocktail or maybe stick to a keto diet with these keto drinks.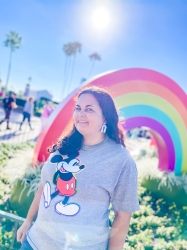 Latest posts by Krystal | Sunny Sweet Days
(see all)