7 Tips For The Perfect Camping Trip
When it comes to camping, it's important that you're doing it your way. There's no right way to plan your trip, but there are certain things you can do to make your trip more fun and more comfortable for you. Camping is a vacation that can be for everyone if you know what you're doing, the trick is to be as prepared as possible to make sure everything goes as planned.
Of course, being surrounded by nature, there are only so many factors you can control, but you can at least be prepared to handle things like bad weather conditions or a food shortage.
Researching your location
First things first, you'll want to make sure the location you're heading to has everything you want. You don't want to get there, set up your tent, and unpack, only to realize the location you've picked isn't everything you've hoped it would be. You can save yourself a lot of time and money by doing your research before you head out.
Take a look into things like the best campsites in the Lake District, or the best locations for campers like you. You should also look into what kind of amenities are going to be nearby. Are you completely secluded? Is there a store you can head to if you're looking to get some more food? What should you bring to prepare for the conditions you're headed to?
Get your equipment right
If a camping vacation is going to go smoothly and be enjoyable for everyone involved, you're going to want to make sure you're properly geared for it. You need enough tent space for everyone that's coming, as well as plenty of seating. Being one seat short is a great way to leave someone uncomfortable during the downtime, so it's not ideal.
If you find small tents to be quite claustrophobic, then investing in a bigger tent that shelters more people might be worth it for you. Sure, it can take more time to put up a bigger tent, but you'll feel as if you're living in luxury while you're surrounded by nature.
It's good to have plenty of lights too, just in case one stops working on you. Not only that, but it will make it easier to find things during the evening – you don't want to spend too much time fumbling around in the dark while you're trying to get ready for bed.
Bringing extra padding for your bed is always a good idea if you've got enough space to pack it. Going with just a sleeping back won't do anything to keep you from feeling the ground below, which could be very bumping, hard, and uncomfortable to sleep on. The more layers, the better – but that's not for everyone.
Switch off your phone
The main appeal of camping is being able to get away from things like work and social media. You're alone and getting more in touch with nature. The last thing you're going to want is to have to answer or reply to texts from work every few hours – it can ruin your vacation completely! With that said, many camping locations won't have all that great signal, so this may not apply.
If you're not going to have to worry about calls from work, your phone can make for a great GPS – so keep it on you at all times, as well as some backup battery to keep you going for the duration of your holiday. You wouldn't want it to die on you when you need it most.
First aid

Being prepared for everything is a must because many camping experiences will leave you to fend for yourself while you're out there. The wilderness can be as dangerous as it is beautiful, and all it takes is one fall to injure yourself. An injury like this doesn't have to be serious, but it would surely help if you had the means to deal with things like cuts or pain.
It's likely you won't need to use it, but it's much better to make sure you have it just in case. Double-check while you're packing to make sure you've got everything in it that you would need.
Check the rules
Depending on the campsite you've booked, you may have certain rules to abide by. These rules are either put in place by the people who own the land, or as a safety guideline. It's important that you understand these rules before you register yourself, or else it may affect how you plan out your vacation.
Some sites are going to be more strict than others, so it's worth paying extra attention to each site you're interested in before you start putting your payment down. If you don't follow the rules, you may get evicted from the site early, and that would put an abrupt end to your vacation.
Have a backup plan
As mentioned before, you can't control everything that happens on your camping vacation, but you can make sure you've planned ahead for it. If it's raining outside and you haven't got any waterproofs, you're going to be stuck inside your tent for the rest of the day without being able to cook food. You also risk a lot of your things getting wet if you're not prepared for it.
While being in your tent for a little while can be fine, it may also get boring. Having some extra entertainment packed with the rest of your things can save you from getting too bored.
Packing efficiently
Of course, unless you've got a large vehicle, there's only so much you can bring with you – which is why it's important you know how to pack efficiently. Just piling everything into your car isn't going to get you very far. Plan out what it is you want to bring, and pack it in systematically – making sure you've got some extra food for the road trip. Having to pull over at every service station can be a hassle!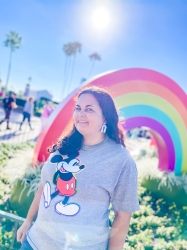 Latest posts by Krystal | Sunny Sweet Days
(see all)