7 Perfect Gift Ideas for Families with Toddlers
Buying gifts for a family, whether it's your own, or someone else's, is not easy. This is because everyone has different tastes and preferences, especially when kids of various ages are involved. The challenge lies in finding a thoughtful gift that caters to everyone's needs. There are plenty of unique and considerate gifts: it's only a matter of looking in the right places. If you know a family with kids, you likely understand they haven't shopped for themselves in a while. This is because they're busy pouring their heart, soul, time, energy, and finances into their tiny humans. Ideally, this means they wouldn't mind if you pampered them with some gifts. We've prepared expert tips to help you find the best gifts for a family with toddlers.
Sleep Wear
Since we're now staying at home indefinitely, there's no better time to dress everyone in the comfiest outfits. Many parents are relaxing the rules. So, where pajamas for children under 2 years old were strictly for bedtime, there's now no shame in letting the kids linger in pajamas for a little bit longer. When choosing sleep ware or pajamas as a gift, fabric quality is everything. Go for styles that are made from 100 percent cotton. Such styles tend to be soft, snuggly, and they also wash well.
A Programmable Vacuum Cleaner
Pushing around a vacuum cleaner back and forth while hip-carrying an eight-month-old is not easy. Plus – no matter how much your small toddler adores the vacuum's noise – it's a task no parent wants to be doing every day when a baby is sleeping. This is where a robotic vacuum comes into play. Even though it's expensive, it will mean a lot to someone with small kids. For a gift, you can go for the lower-end model costing less than $300 and will still get the job done.
A Toddler Monitor
Small kids need plenty of monitoring. One minute of leaving them unattended, and you should be well prepared for a disaster. If it's a small baby, an affordable audio monitor is convenient as you need to hear them cry. But, if you're buying someone a gift, a video monitor is highly recommended. It's versatile and will still serve parents even after their child starts crawling, getting out of bed, or moving around more.
Photo Gifts
Photo gifts may sound so 2005. However, there are some updates to this timeless piece that you can still consider as a gift. Sometimes, it's not many parents who have the time to print their favorite photos, let alone compile a photo album – this is where you come in. Stand out by giving that special someone a digital photo frame. It can include pictures from their social media accounts so they can remember their memories. You can also get them a subscription to have their photos printed in a beautiful coffee magazine.
Back Seat Car Organizer
Sometimes, your kids' toys may be left sprawled all over the car. A car organizer is an essential item to help keep your children's car essentials within arm's reach. It's designed with several separate compartments for all their toys and snacks. Additionally, it also has bottle holders for drinks. This is the perfect gift for that special someone with a family. It will help keep the car free from all paraphernalia. This makes it an excellent gift, especially for parents who adore their cars.
Books
There are some books written for adults and kids to read together. This will come in handy, especially for bedtime stories. Go for those books tailored to teach kids how to understand and react with empathy to other people's feelings. Such books are meaningful and will help children develop respect and compassion. Books would make a great gift for parents with small children. They can also be passed down from one generation to the next if they're well-maintained.
Self-Guiding Journals
Sometimes, the days can feel long, but the years fly by so fast – and especially in the early years of parenthood. A couple can get too overwhelmed by daily life to think to write down the treasured moments they want to remember. This is where a guided journal comes in. You can find one easily from a bookstore. Some of them are useful as parents can write messages to their kids for later reading.
The truth is, the parents in your life will appreciate any acts of thoughtfulness. It doesn't matter whether they come wrapped up or just in the form of a visit or phone call. We hope the ideas above will get you started. Remember: the best gift you can give is by also being there. This can be in the form of a helping hand by offering assistance with some light duties.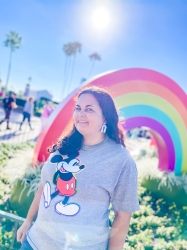 Latest posts by Krystal | Sunny Sweet Days
(see all)