7 Giveaway Ideas To Promote A New Brand
Launching a new brand is very exciting but it's also risky. Marketing for a new product is crucial for its survival, and giveaways have always been one of the best cost-effective ways to make people recognize a new brand. They also help you gain loyal customers and motivate them to tell their friends and family to try out your services, which results in continual growth.
In this article, we will discuss 7 giveaway promotional ideas that could help new brands build a solid customer base.
1. Use Social Media
Social media has a huge effect on people, and running a social media giveaway is an effective way to increase your reach and get people excited about your new brand. First, you need to set your campaign objectives, then plan your giveaways. Using the broad reach of social media will help in increasing the number of followers you have on different platforms, which means you are raising more awareness about your new brand, and driving engagement as people will like, comment on, and share your posts, as well as put your new brand under the spotlight. This will increase leads and boost your sales.
2. Make It Relevant 
Promotional giveaways should align with your target customers' interests. To promote a new brand, you need to generate leads, so the giveaways in question should be telling of your brand identity. For example; if you are launching a perfume line, giving away samples in the form of perfumed wipes would be a good idea. You could also add a personal touch to your giveaways if you want people to come back for your services or products. Personalized calendars are a good example of a personalized giveaway, and according to https://blankcalendarpages.com, there is a wide range of styles and languages to choose from. Having your logo printed on personalized giveaways will definitely have a positive effect on drawing in customers.
3. Go Viral
Hiring social media influencers is a new method used to market and promote new brands. Search for influencers that your target customers are likely to follow. There are many influencers nowadays, but depending on your budget, you can find the right person who could help you market your new brand. If your budget doesn't allow you to hire a famous influencer to vouch for, you can find a micro-influencer. Micro or macro social media influencers can both significantly give your reach, and thus your sales, a boost.
4. Free Products with Purchase
Who doesn't like free products? Adding free products to purchases can boost sales and awareness about your brand, as people tend to notice and pay attention to products with freebies. It doesn't have to be the same item, like a buy-one-get-one-free kind of promotion; the giveaway can be anything with your logo on it. It doesn't have to be an expensive item, either. You don't have to spend all that much money; customers will appreciate a freebie no matter how simple it is. Sometimes, it's the gesture that counts.
5. Discount Offers
Offering discount coupons and gift cards are a great way to keep customers coming back to you. Succeeding in reaching a wide range of customers is great, but having them come back is a challenge. Offering discounts on future purchases is a great way to promote your new brand. In the marketing field, it is very well known that discounts make people pay more.
6. Appeal to Your Customers 
Using psychology is a great way to get your target customers to be interested in your giveaways. Create a sense of urgency by limiting your offer to a certain amount of time. You could also a countdown on your website or make the number of giveaways visibly decreasing. This has been proven to be a very successful method in getting the customers' attention.
7. Spin the Wheel
You can create a wheel with different giveaway ideas, where customers have to spin to reveal their item they won. This is a fun creative way that many customers would enjoy. The giveaways can be discount offers, goods or services that your company offers, or a personalized gift with your brand logo on it. This method can help you learn more about your customers or clients because it is interactive, which is an added benefit.
Always pick the items you want to give away based on what you're trying to achieve by doing so; are you attracting more clients or are you working on keeping your loyal customers happy? Using interactive methods to give away gifts will help you learn more about your customers, which will help you find ways to increase your profit later on. Adding a personal touch to your new brand's giveaways would definitely have a good effect on your target customers, as well. You could also place your logo on giveaways related to your brands like make-up bags, calendars, or totes to raise awareness about your identity and what you sell. Discounts and buy-one-get-one-free offers have a magical effect on promoting new brands. When it comes to promotional giveaways, always go for items that would boost your sales and help people remember your identity.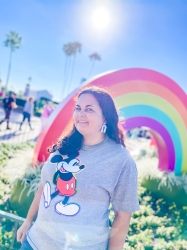 Latest posts by Krystal | Sunny Sweet Days
(see all)