7 Delicious Vodka Cocktails To Try
Vodka is a super versatile drink. While this is nice in many ways, it can also lead to some tough decisions, mainly surrounding how you'll drink the liquor. After all, there's a seemingly endless array of cocktail options available! So, if you're a vodka lover that's unsure of what to drink, here are seven delicious vodka cocktails to try.
1. Vodka Cranberry
If you're looking for a simple yet satisfying drink, you may want to try a vodka cranberry. It's essentially what it sounds like – cranberry and vodka. However, you can get fancier. Try making your drink out of vodka, cranberry juice, lime, and orange juice. You can also add club soda to make it fizzy!
2. Cosmopolitan
When you're craving a fruity drink, few options are better than a cosmopolitan. This cocktail is made out of vodka, lime juice, cranberry juice, and orange liqueur. If you're looking for something different, you can adjust these ingredients to fit your tastes. Whatever you do, try to find a martini glass to put the drink in. Otherwise, it won't truly feel like a cosmo!
3. Bloody Mary
Bloody Marys are a staple of alcoholic breakfast drinks. This cocktail is refreshingly savory, and it works very well as a brunch drink. You may also want to grab a bloody Mary if you have a hangover. While the cocktail does have alcohol, it can act as a "hair of the dog" drink. Bloody Marys consist of tomato juice, vodka, and various other ingredients. These ingredients often include Worstechire sauce, horseradish, celery, hot sauce, and olives.
4. Apple Martini
Apple martinis, fondly known as appletinis, are excellent fruity drinks to try. This cocktail is also easy to experiment with! Essentially, appletinis are made with vodka and some form of apple flavoring. This could be apple juice, apple liqueur, apple cider, or apple brandy. You can use one or try mixing different kinds. There's also the matter of color. Professional appletinis generally have a neon green hue. If you want your cocktail to be that color, you should use green apple schnapps.
5. Screwdriver
Sometimes simple is better, even with alcohol. A perfect example of this is the screwdriver. Essentially, screwdrivers are made with orange juice and vodka. To top it off, you'll want to add some ice cubes. While this drink may sound sort of boring, it's amazingly refreshing! Screwdrivers are also cheap and easy to make. If you're looking for something a bit more detailed, there are lots of ways to embellish the screwdriver recipe.
6. Hairy Navel
If you love fuzzy navels but are looking for a vodka drink, then a hairy navel could be perfect. Hairy navels are made with vodka, peach schnapps, and orange juice. This drink is great for light brunches, especially in the summer. It can also be made with lemonade if you want some lemon flavoring.
7. Creamsicle Punch
If you're looking for a drink that doubles as dessert, then the creamsicle punch is an excellent option to try. While there isn't a definitive recipe for this delicious drink, it generally involves orange juice, vanilla ice cream, ginger ale, vodka, and Prosecco. In order to make it, simply mix the liquid ingredients together and plop in some ice cream. Since you'll have a blob of ice cream floating in the drink, you may want to have it with a spoon!
Deciding how to consume your vodka can be hard. Luckily, there are few ways to go wrong when it comes to vodka cocktails. If you're extremely lost, just follow your gut. Besides, you can always make another drink afterward!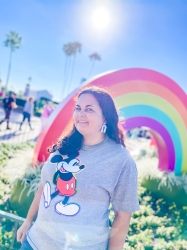 Latest posts by Krystal | Sunny Sweet Days
(see all)