6 Tips for Care of Your Essential Oils
Once you've started learning about essential oils and their many benefits, you might find yourself at a bit of a loss. You know how to use them, you've purchased all your favorites, but what do you do now?
Caring and maintaining your essential oils is almost as important as using them correctly. Proper storage and care will keep your oils at their best, so they don't lose the properties that make them so helpful. For points on how to care for your essential oils, read the six tips below.
Keep Them in the Right Containers: Essential oils need to be kept in glass containers. While any glass container will suffice, the best are those made of dark glasses. Brown or black glass bottles work best because they protect the oils from changes due to UV rays or sunlight. Most stores that sell essential oils have a vast variety of containers in many different colors. High-quality online essential oil venders sell them in the best glass bottles.
Keep Them Away From the Sun: Essential oils should not be stored in direct sunlight. It might seem like an easy option to keep your oils where you use them the most, by your bathroom or kitchen sink, but this is detrimental to the oils. Over time, if exposed to sunlight, the oils will begin to oxidize. This deteriorates all those amazing properties for which you use them.
Keep Them in a Cool Area: Not only is light detrimental to essential oils, but so is storing them in a place that fluctuates in temperature. If oils get too warm, even if they're in a dark area, they'll begin the oxidization process. Most users of essential oils suggest storing them in the fridge. For some, this will mean they harden, a bit like cold honey. However, if you remove them from the fridge a bit before you use them, they'll be just as effective.
Keep Them Capped: Oils, just like water, evaporate rather quickly when exposed to air. So, when you've used them and are cleaning up, make sure the lids are all tighten properly. After spending so much money to buy them, it would be a shame to open a bottle one day and find there's nothing there but a wonderful smell.
Keep Out of Reach of Children: While this one seems fairly obvious, it's worth saying. While essential oils aren't at all dangerous when used correctly in the right amounts, if a child were to get into them, it could cause damage. If you have a child that is tall enough to get into the fridge, but doesn't understand not to touch, you might want to place them on a higher shelf or far in the back. It's always better to be safe than sorry!
Keep Them Away From Open Flames: As suggested by their name, essential oils are very flammable. So, you should keep them away from any flames, sparks, or igniters. While candles, massages, and essential oils go hand in hand, exercise extreme precaution when using them.
Essential Oils to Try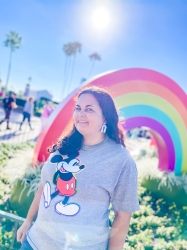 Latest posts by Krystal | Sunny Sweet Days
(see all)