6 Sanity-Saving Long-Distance Caregiving Tips
If you live an hour or more away from a person you need to take care of, you fall into the category of a long-distance caregiver. It's a task that comes with its own set of challenges which often can feel overwhelming.
Long-distance care can take many forms, from providing help with money management to arranging live in care service, planning for emergencies, and making regular visits. Many people find themselves under financial and emotional stress. Taking care of your older parents (or any other relatives or close ones) is time-consuming, costly, and eats up your vacation days. And sometimes you even start to feel guilty, because despite doing your best, you still feel like you could do more and better.
Fortunately, there are several ways to make long-distance caregiving more manageable. To give you some much-needed hope and ideas, for instance, you can use technology to improve communication or set up a care plan and start building a solid support system for yourself. Below, you will find more details about what to do to improve your situation.
Have a Care Planning Conversation
When you're living far away from a person you're supposed to take care of, the first step is to have a talk. You should discuss things they need help with, when and how often you can visit them, and what kind of assistance they would like to receive. This way, you'll know exactly what they expect from you, and it will be easier for you to arrange your daily life accordingly. Setting up a care plan will also give you something to work with and refer back to – it will surely save you plenty of worries.
Your plan should also include a list of contacts – your personal and work numbers – as well as the phone numbers of a doctor and a nurse. Apart from that, you need to write down details concerning your usual work hours, so it's clear when you're usually home, and when you're at the office. This information will also help others know where to reach you in case of an emergency.
Use Technology to Improve Communication
Technology has come a long way, and it can make a big difference when it comes to long-distance caregiving.
For example, you can use Skype to schedule regular video calls with your loved ones; it allows for a more intimate conversation when you can't meet in person, providing an illusion of an actual face-to-face talk. This might require you to sit with your parents and show them how to use FaceTime or Skype, as well as write detailed instructions on the paper so they can practice on their own. Introducing them to new technology might take some time, but it will definitely be worth the effort. You can use the same technology to facilitate communication between your parents and their caregivers in place, even nurses and doctors.
In addition, technology may help you get more information about your parents' general health and daily routine. For instance, you can use an app such as Health Log to help you monitor their medication intake and other health-related activities, or download one of the numerous delivery apps to order groceries for them.
Start Building a Solid Support System
The most important thing is to stay positive and try not to overburden yourself. Building a solid support system can make a huge difference in managing the situation. You will be able to pass over some of the tasks that you don't have time or the possibility to perform. You can't be perpetually busy and exhausted, as it will take a toll on your own health as well as personal relationships. A support system will also help you feel less worried about how your parents are doing on their own.
If you have siblings who, like you, live away from your parents, ask them to visit more often and get involved in the caretaking. In case getting the rest of your family involved is not a possibility, or it's just simply still not enough, consider the services of a live-in nurse or try talking to your parent about moving them into an assisted living facility.
Monitor Finances
Being a long-distance caregiver means you're not only responsible for the physical well-being of your parents, but you also have to pay attention to their finances. You should regularly check their bank account, either online or by calling the bank. If you notice any suspicious activity or purchases, contact the financial institution right away and have the account flagged. Also, you need to keep a record of all the purchases made each month and review them periodically.
Your parents might also need help with tasks such as paying bills. To manage them better, you can arrange for your parents to set up auto-pay. This way, they won't have to worry about paying the rent on time or having all their bills taken care of because modern technology will do it for them. And, besides logging into the account once in a while, you'll have one less thing to manage.
Try Texting
When it comes to phones, elderly people are used to making lengthy calls. However, you might find yourself in a situation when talking over the phone is not possible, but you still want to check on your parent. In this situation, you should try to teach them how to text. You can text your parents as often as you want, asking how they are doing and letting them know that you're thinking about them.
Remember that if your parent isn't used to a smartphone, they probably won't learn to text in one day and mastering it might take them some time. During your every visit, practice texting and remember to be patient. If they forget anything they've learned before, you can't get frustrated – it will only discourage them.
Monitor Health Issues
When it comes to your elderly parent's health, you'll need to always be on top of your game. Each time you visit, make sure to look through their medications and check if there are any meds that are running low or prescriptions to order. If you're ever concerned about anything relating to the treatment, ask your parent if it's ok to call their doctor and make sure that everything is how it's supposed to be.
Don't assume that just because your parent tells you they're ok, then that's the whole truth. Try to dig deeper by asking questions, but don't be pushy or aggressive. If you learn that they've lied to you about something, don't get angry – most probably, they simply didn't want you to worry. Depending on how serious the issue is – it might be an aching tooth or other condition they've been hiding – try to resolve it during the time of your visit. Assure your parent that they can tell you about anything and at any time.
Conclusion
As a long-distance caregiver, you have to be resourceful and creative to find ways to help your parents. Fortunately, there are many ways to use technology, for instance, to make your and their life easier. You can keep track of their health, manage their finances, and stay in close contact with them using apps and tools that are easy to use.
Don't be afraid to ask questions if something worries or concerns you. If possible, arrange for other people to visit and check on your parent. Stay in contact with their doctor, remember to be patient and stay respectful – after all, your parent is still your parent, and you're their child, even though things have changed and you're the one taking care of them.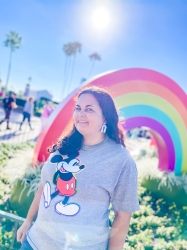 Latest posts by Krystal | Sunny Sweet Days
(see all)