6 Pandemic Tips to Learn from "Tiger King"
By Ann Lloyd, Student Savings Guide
"Tiger King" may go down in history as the show with the most on-point release date in history. The Netflix documentary spotlights a disturbing concoction of deathly rivalries, showmanship, animal cruelty issues, drug use, cults, hypnosis, kinky sexual behavior, dramatic music videos, and perhaps the world's greatest anti-hero: the Tiger King himself, Joe Exotic.
And all of this was brought to the public exactly when we needed a trashy distraction most, at the beginning of the COVID-19 quarantine. Despite the obvious lunacy portrayed by Joe and his misfits, a few unexpected lessons shine through about pandemic living. Keep reading to find out what you can learn from "Tiger King."
Treat Your Home Like Your Palace
Joe Exotic definitely reigned as king of his castle and made sure everyone knew it by his eccentric style. During the lockdown, you've probably found yourself with a lot of time on your hands, staring at your walls. This is the perfect time to take on those home projects you've always felt you didn't have time for.
Working on home improvements during lockdown is a great way to keep your mind occupied and add value to your home. If the job starts to get big and messy, consider checking prices and renting a dumpster to clear away the debris afterward. Rental rates can range from $250 to $300, depending on your location.
Surround Yourself with Love
Carole Baskin — hero to some, villain to others, she of the cat-printed everything — knew the importance of using your surroundings to remind yourself of what you truly love. During lockdown, many of us are missing some of our favorite people, places, and activities. That doesn't mean we can't keep these things close to our hearts, though.
A great way to stay busy and upbeat during the lockdown is to take on some photo projects. The photos of those people, places, and activities you're missing right now can make for some beautiful home decor. A number of websites specialize in turning your photos into keepsakes — and of course, there's always the old-school photo album or framing.
You can even share the love with clients and customers you can't see in person right now. Consider creating and sending a note and a small gift adorned with your company or personal logo to make sure your loyal customers know you haven't forgotten about them during the quarantine.
Pay Attention to Your Finances
Joe Exotic spent a lot of time figuring out how to feed his big, lovable cats. While you're stuck at home, you might have noticed that certain expenses are on the rise — groceries, for one, as we turn to food for comfort and entertainment.
When things are topsy-turvy and the timetable for recovery is uncertain, it's a great time to re-evaluate your budget and figure out where cuts can be made. The economy may look bleak right now, and emergency savings have never been more important. But even when things improve, you'll be glad you spent some time fine-tuning your finances. Get yours on point by paying special attention to your money right now.
Prepare Yourself for Emergencies
Working with big cats is not without its risks. If you want to talk about dealing with an emergency, talk to Saff, who lost his arm to one of Joe's tigers. It may feel like we're in an ongoing state of emergency during the COVID-19 pandemic, but that just makes this the perfect time to fine-tune your emergency preparedness overall. Getting prepared to face emergencies is usually one of those things we talk about doing, but often don't see through to the end.
Now that you've lived through a few months in an emergency-type situation — even if it's not a noisy, catastrophic natural disaster like a hurricane or wildfire — you can ask yourself: What precautions do you want to take to ensure that you and your family are always prepared? Things such as packing bug-out bags, stocking up on nonperishable foods, and updating your medicine cabinet are important steps you can take to make sure you're ready for the unexpected.
Keep Your Circle Tight
Joe Exotic wouldn't have been much without his band of misfits and partners in crime (literally). He knew the importance of surrounding himself with folks who were loyal and on board with his goals.
Even though you may not be able to hang out physically with your circle right now, don't let this time and distance come between you and the folks you care about most. It's very easy to let relationships slip when you don't see each other often. Make up for this with regular check-ins with friends and loved ones. Plan virtual get-togethers and dinners using the technology available so you don't lose touch with those you care about.
Find Time for Pleasure
Although we are in no way condoning most of Joe Exotic's downtime activities, you've got to admit, the guy knew how to enjoy himself. Even though you might be stuck at home, there are a ton of ways to have fun — legally of course. Break out the board games, make a homemade slip-and-slide, or toss around a flying disc.
Even learning a new skill can become a pleasurable activity when you're bored and stuck at home. Have you always wanted to learn to paint, play an instrument, or drive a stick shift (a great skill for empty streets and parking lots)? Now's your chance.
Don't waste time feeling sorry for yourself. Use this time to enjoy things you usually don't have time for, and to address preparations you never get to otherwise. And don't feel ashamed of your "Tiger King" binge during quarantine! Instead, take these tiger-striped lessons to heart, and make the most of your new quarantine life.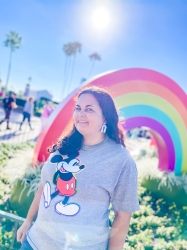 Latest posts by Krystal | Sunny Sweet Days
(see all)