5 Ways To Get The House Of Your Dreams
In life, we all have dreams. But the extent of our dreams really does change and differ – not just from person to person, but over the course of your life too. Some will have huge career aspirations; others will have ideas for how their family life and future will pan out. No matter what the ideal dream looks like to you, you will find that you definitely want to live somewhere that you love. However, how do you know what the dream place really looks like? And how can you make it your own? Because that's the thing about dreams – we often get so used to them being in our minds, that actually achieving them seems confusing. So here's how to get your dream home.

1. Work With What You've Got

First of all, one of the things that you might like to do here, is just work with what you've got. Because if you aren't taking the best care of your home, then you could be leaning a lot on the table. Yet, if you choose to organize your home a lot more, generally declutter, and have a super thorough clean, it could make all the difference. So start here first and see how much of a change you can make by approaching your home with an entirely different mindset.

2. Redecorate In Your Style

If a little bit of decluttering and cleaning hasn't worked, then your next job is to try to redecorate. You may not realize it, but your home really needs to be updated every few years or so, because things tend to look old and tired quite easily. So, try to spruce things up to match your taste and see how much of a difference it makes.

3. Get An Extension

From here, you'll find that you might also want to consider getting an extension. Sometimes, your home has the potential to become your dream place. However, it's not quite there. And so, you could look to change that but working with residential architects to really improve what you have. Sometimes, you can get such an intense transformation with an extension and brand new decor.

4. Convert Unused Spaces

If you have a garage that you're no longer used, an unused downstairs room, basement, or attic, why leave it like that? Just like extending, converting these space can add more room and improve the look of your home altogether.

5. Move To A New Home

Finally, you may also want to consider moving. For some people, the idea of staying where they are just doesn't work. Maybe you don't live in your desired neighbourhood? Maybe the style of house isn't right? Or maybe you simply don't like the space and never will! When this is the case, moving could work for you – so don't rule it out. Just be sure to start looking at the market early, work out what you can afford, and then start working to make your dream a reality.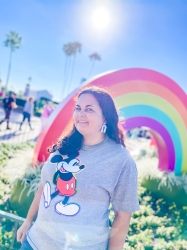 Latest posts by Krystal | Sunny Sweet Days
(see all)