5 Ways To Find Balance Before Sunrise
What time do you get up in the morning? What time do you want to get up in the morning? The few minutes I manage to squeeze in before my little one wakes up are some of the most important moments of my day. Once my son is awake, the rest of the day feels like go-go-go. Between day care, an extended commute, a busy work day of meetings and phone calls, fluffy dogs, and freelance work, my days can sometimes end up being jam packed. The best way for me to feel balanced and manage my time well is to get up early and enjoy the silence over a brief breakfast.
Winter in Florida can be unpredictable, but the past few mornings have been foggy and chilly. The view of the palm trees reflecting in the canal out back relaxes me, and I have been enjoying the quiet early hours of my day. I use this time to relax, remind myself of my To Do List, and reflect on the day ahead. Here are my Top 5 Tips for seeking balance before sunrise:
1. Get up early. This one is non-negotiable! If you are as busy as I am, the only hours that are truly "mine" are in the early AM. Writing, cleaning, meal prep, and even laundry takes places in the wee hours of the morning at my house. It's the only way I get anything done.
2. Meditate. Since we have dogs, I'm often up too early and outside before dawn. I am trying to utilize this time to recharge and get ready for the day. Using the extra hours in the morning helps me stay focused throughout the day since I feel more organized.
Can you see the tiny spiderweb?
3. Eat breakfast. I am trying to create a routine where I take my planner and my breakfast outdoors each morning. It's peaceful, my dogs are happy being out of the house, and I can focus on keeping at least one of my goals (I started the healthy habit of eating breakfast!).
We have a covered deck, and we also have a dock with a table. This foggy morning was quite wet, so I took my breakfast under shelter. I've been trying Kellogg's Raisin Bran with skim milk lately.This variety is my husband's favorite, so we usually have it on hand in our pantry.
4. Look at the day ahead.  I love using my daily planner, but I sometimes forget to use it…
I try to keep my to-do list balanced. Even though I might want to do ten projects or email five friends, I know that it is not always possible. I focus on the TOP THREE items for the day. I remind myself to plan my meals in advance, and I make sure that those three items are done before bedtime. By simplifying my day, I'm able to focus on what matters. My planner helps me keep a clear mind since all of the important details are out there on paper. When I use a digital to do list, I often forget to check it to see what needs to get done. Paper and pen is the perfect planning method for me.
5. Prep dinner. It's much easier to return home after a long day to find dinner already started. Or, at least planned! I try to make sure everything is set up and ready so I just have to COOK and not slice and dice dinner.
Easy Organizing Ideas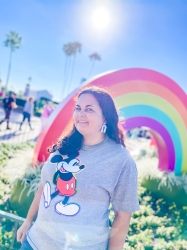 Latest posts by Krystal | Sunny Sweet Days
(see all)