5 Tips to Maximize Your Time
I'd like to preface this post with "Do as I say, not as I do." There are more days I'm a mess than productive, but I know how to be productive. I know what time sucks I fall into, and I know where every minute of my day goes. I used to map out my day, hour by hour, to see when I felt the best and when I worked the fastest. So, while I'm still working on my path toward productivity, I wanted to share a few easy ways to get the most out of your day.

1.  Write it down. If I have an action list, I can swallow my "to dos" a little faster. While I love and use my planner, it's too messy. There are too many notes, meeting reminders, and check lists. I keep it simple in a small notebook with the "real" to dos. Feed the dogs. Pick up child. Go to the post office. The simple little reminders that I need to keep me moving throughout the day. I also find that if I write it down, I remember it better. My planner may help me keep it all together, but my lists help me focus.
2. Shop online. For real. My son is almost two, and I can say that shopping online has saved a ton of time when it comes to running silly errands. I basically can no longer take him to the grocery store or even Target without full on meltdowns after a few minutes. He absolutely refuses to sit in the cart nowadays, so he is either in my arms or running freely… neither are good choices. If an item is available online, you better believe I'm buying it there instead of heading to a store.

3. Watch the sunrise. I basically mean to just get up earlier. The hours before my husband and son wake up belong to me. That is when I catch up on email, relax, make coffee, and plan my day. If all my minor stuff is taken care of quietly before dawn, I'm all set for a productive day!

4. Go outside. Whenever I'm feeling stuck or not motivated to finish a task, I head outside. Whether it's on my back patio or a walk around the block, I need to get some sunshine in order to think clearly. This really helps when I'm feeling sluggish after lunch or when I am trying to change gears and need to think about a new project.

5. Develop a hobby. While it might seem counter-productive to find something else to do that eats away your time, I promise that it works. Whether your hobby is reading, going on a bike ride, or learning photography, a brief break during the day to do something for yourself can help energize you to reach your goals. Why are you so busy every day? Are you working? Blogging? Taking care of children? A hobby or activity can provide a release and motivate us to keep going. I am working now more than ever to spend time with my family, and I know that if I develop my photography skills I can make more money doing something that I love. Your hobby doesn't have to advance your career goals, but it should be something that inspires you to be a better person every day.
How do you make the most of your day? Try starting your day with a strawberry smoothie and try these ideas to Find Balance Before Sunrise.
Images all taken by me.
Warby Parkers, my blog notebook, and a cup of coffee
Sunrise over Orlando taken at the Lake Buena Vista Spa & Resort
A walk through Cape Coral, Florida
Flowers at Downtown Disney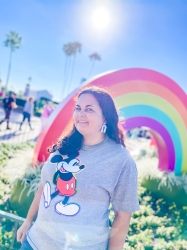 Latest posts by Krystal | Sunny Sweet Days
(see all)