5 gifts for the person who has everything
Gift-giving is one of my favorite things ever, but sometimes, if someone has everything, it can be really stressful, which has the potential to take the fun out of it. Well, the gift-giving season is coming up quickly and I want to make sure that none of you get stressed out. If you have someone in your life who has just about everything, stress no more. Here are a few ideas that are tried, true, and loved by everyone:
Framed pictures
Personally, I love getting framed pictures of special moments or people. If someone in your family has recently had a baby, had a special moment (such as a graduation, etc.), or lost a loved one, a fantastic gift would be a framed picture. I wouldn't gift someone a framed picture every single year, so maybe save this one for a really special memory, but if you have not gifted one in the past, it's creative and special! The good thing about a framed picture is that so often nowadays, people do not actually print out pictures because they have them stored in their phone, or posted on Facebook/Instagram. Do it for them and make these precious memories last a lifetime! Printed photos are much better than storing pictures online.
Useful gift cards
This is always a fantastic gift option, no matter who you are giving a gift to. Safe bets are grocery stores, gas stations, Visa gift cards, and Amazon cards. It is so fun giving someone a gift card that isn't your typical coffee shop gift card or clothes store gift card. Giving them something that they will actually use and really appreciate is definitely the way to go. If you are gifting a college student, a grocery store or gas station gift card would be the best! Bonus points if you can find out what electric company they use and somehow pay their electric bill! For parents, I would stick with Amazon cards or Visa gift cards so that they can get whatever they need. For new homeowners, a great gift card idea is Lowes or Home Depot! If they are a new parent, definitely go with a gift card that can help them buy baby essentials or food.
An experience or a trip
Experiences are always a great gift idea. Think about what they love to do or what they have always wanted to try and go for it! If you search Groupon and other websites like that, you can find a whole list of things to do in your area. There are options like rock climbing, parasailing, sky diving, and dining events, just to give you a few ideas! You will be able to find something for anyone on there. Another great option, for someone you are spending more money on, is a trip. If you are gifting someone as a group, this is a great option so that you don't have to pay for the entire trip on your own. I think trips and experiences are some of the best gifts that you can give and/or get!
A handy service
Do you know someone who could really use a cleaning service? Give them that! What about a tire rotation and new tires? There you go! Is someone moving soon? Maybe consider a moving service? One recommendation, however: stick to local businesses, whenever possible. So, if you lived in Tampa, you could book labor only movers in Tampa, like MT. Zion Moving & Storage LLC for your family member or friend. They are based out of Tampa and have a goal of building trust with their clients. The recipient of your gift (the moving help) will get award winning service that is reliable, efficient, and careful. Plus, they offer clear pricing with no hidden fees, which is great, especially for a gift.
Time
Last but not least, time is something that a lot of us don't have. Take the busy mom, for example. She probably would love to have an extra 3-4 hours to take for herself, but between work, kids schedules, making lunches and dinners, she doesn't have that time. Offer to fill in for her one morning/afternoon/day, and give her that time. Although this is a "different" gift to give, I think it's a great one!
It's hard when you are shopping for someone that has just about everything, but if you focus on great gift ideas that are practical, sentimental, or maybe even fun, you will reduce your stress and give some of the best gifts around!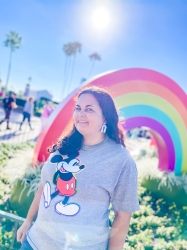 Latest posts by Krystal | Sunny Sweet Days
(see all)