5 DIY Crafty College Dorm Room Decor Ideas
If you want to make your college dorm look unique, you should go beyond the basic commercial offerings that are always available. Of course, you may start with the LED lights and make your college door decorated this way by adding more space with the help of the correct light placement. It will work well for most cases, yet as we strive for being unique and hope to impress our friends, doing something on our own is a great way to get creative and eliminate the stress from the studies and the tight deadlines! 
5 DIY Crafty College Dorm Room Decor Ideas
1. Make Your Mouse Pad Unique.
Since it's a deeply personal item that every college student has these days, you can either paint something that you really like or sew the design that fits you the best way possible. You can make more than one and change them, depending on your mood. Some students even tend to keep important formulas or information written down on the mousepad so that they remember to check their school budget or be up there for an upcoming party. It might be a bit time-consuming, yet you can scan through TrustedEssayReviews and get timely academic assistance. When you have more time to allocate for something creative, your studies will go smoothly as you remain inspired and have fun!
2. Create a Custom Vase.
Well, you can pick a typical jar that may be around and think about the ways you can decorate it. You can use the drawing that can be attached to the jar or choose various stickers that may be available around. This way, you will always have something to think about and let your imagination flow!
3. Turning Pinterest Into Reality.
Have you ever thought about turning your college dorm room into a real type of popular media network? You can easily design your own pinboard by choosing an idea that will last for a week or for a month. One of them could be used as a reminder for important events and deadlines, while the other one can be used for all the bright ideas that you have. It's a digital network that will never freeze up on you and will always make you feel inspired.
4. Making Your Laundry Bin Unique.
There are some college dorm items that you have to see all the time. Regardless if you are planning to decorate your school dorm or apartment, you will always have a bin to store your wet clothes as you get back from a walk in the rain or finally have some rest after the gym session. You can take the old bin bag first and decorate it by adding handles to it or use an already existing bin and add various accessories to it that can be either stuck with glue or attached by sewing.
5. Flower Wall Decoration.
The space behind your bed and sofa is not where you would stick the reminders and the photographs. While it's also possible, you can create a beautiful wall of flowers (literally!). Choose real flowers (if allowed) or turn to artificial creations that can be made on your own. You can use hot glue to make your flowers hang or use tape for the stems to create your unique jungle environment.
Always Staying in Style

When you decorate your college room, always think about those minor aspects that will reflect your personality or even your future major. If you like to keep things gothic, you can keep your college room decorated in dark tones by turning to symbolism and mystic paintings taken from the web. If you hope to become a fashion specialist, you can even use scarves as the curtains in your room and match yourself with your dorm room, making it fully yours! Keep things creative and you will always feel connected!
BIO
Andrew Mazur knows it all about college life and the range of experiences most students have to go through. As an educator, he loves to explore and provide helpful solutions and study tips. Follow Andrew to spice up your school studies and find inspiration.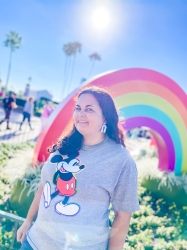 Latest posts by Krystal | Sunny Sweet Days
(see all)