4 Ways To Make Your New Home Your Own
When you move into a new home, it can take a little while for it to really feel comfortable and like it is actually yours. The sooner you can feel at home when you are at home, the better you will feel overall, and the more easily you will slip back into the day-to-day routines of work and running a household without still feeling out of place and out of sorts. Here are some great tips on making this happen as quickly as possible.
Make Changes
When you went to view the property you chose to move into, there will have been things about it that you didn't like that much – it could have been the color of some of the walls, or there might have been carpet that needed replacing. Perhaps it was the radiators that look old and as though they needed to be updated.
In order to become as comfortable as possible as soon as possible, the ideal time to make those changes is as soon as you move in. That way, you don't have to live in the shadow of the previous owner's taste, and you can have everything just the way you want it. Search around for the right paint, get quotes for carpets, and take a look online for radiator styles that will suit your own personal taste.
Hang Art
It's amazing what a difference hanging a few pictures on the walls can make. These don't have to be expensive works of art; they can be your own paintings or those of your children. They can be photos in attractive frames, or you can use photo canvas printing. They can be posters from your favorite films. What the art is doesn't matter as much as the fact that changing bare walls to something a little more colorful and interesting will immediately make any property feel a lot more homely.
Clean It Up
If you're living amidst boxes, you won't feel comfortable, and if you're living in a mess, you won't feel comfortable either. Therefore, it's important to keep your new place as clean and tidy as possible. As soon as you have unpacked one room, pack up the boxes and clean around to ensure it is dust free and ready for use. Take one room at a time, and the job will feel as though it is getting done a lot more quickly. Plus, you will more easily be able to see your progress.
The physical space in which you live can make a big difference to how you are feeling, so it makes sense to keep everything as tidy as possible to enable you to enjoy it more and to keep your mental health in check.
Soft Furnishings
To really become comfortable at home, add some cushions and throws to your sofas and chairs, and put a rug in the center of the living room (and perhaps in other places such as the bedrooms and hallway too). These touches of coziness will lift the entire property, and you will be able to snuggle down into your furniture in a brand new room yet feel totally at home.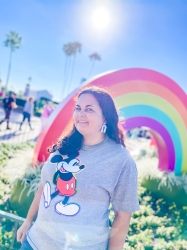 Latest posts by Krystal | Sunny Sweet Days
(see all)