4 Tips for Finding the Right Apartment in Los Angeles
From entertainment to fitness, aerospace technology to bioscience, all types of industries are booming in Los Angeles. If you're considering moving to the city for work or school, it's easy to see why. Beautiful beaches, gorgeous nature, and some of the best attractions in the world are hard to pass up. Whether you're ready to move now or in the near future, it is important to find the right apartment. 
1. Use the Internet to Search
While driving or walking around the city to find rental signs can be productive, it's also quite exhausting, not to mention hard to do if you aren't already living in the area. Instead, take to the internet to find your apartment in West LA. A wide range of national and local websites provide search options that let you narrow results by price range, amenities, location, and more. The websites also make it easy to take virtual tours, compare neighborhoods, and determine whether you'd like to set up a meeting.
2. Visit Places in Person
Remember, the people who post apartment listings online often use professional photography techniques for lighting and size perspective, so what you see online won't always be what you get. Additionally, some people simply take advantage of those looking to move to Los Angeles by posting properties that aren't really for rent or finding other ways to steal someone's hard-earned money. Before you sign a lease agreement or give money to someone for a deposit, visit the place in person. This ensures you know exactly what you're getting and that you can determine whether the apartment seems safe and secure.
3. Think About Transportation
Consider transportation when choosing an apartment in Los Angeles. The city's train system doesn't run 24/7, nor do most of the buses. If you plan to work overnight or have late nights out, you'll need a car to avoid high-priced rideshares. Of course, owning a car in the city comes with its own set of obstacles. If you intend to drive to work, you'll definitely want an apartment that is close to your job. Traffic on the city's freeways can be very overwhelming. Additionally, many apartments in the city don't offer free street parking, so expect to pay extra for parking.
4. Link Up With Other People for Roommate Situations
Los Angeles is a beautiful city, but it's also an expensive one. Realistically speaking, you'll probably need roommates. If you don't want to end up scrambling and living with a stranger, start your search for roommates before you need a place. In a lot of cases, it's actually easier to find an established household. They'll already have appliances (which aren't included in many new units), furniture, and know the best spots in the neighborhood. Advance searching also gives you the opportunity to find people who have similar career goals, hobbies, and lifestyles, so you may even make friends as well.
Whether you move into a unit alone or join an existing household of roommates, always read the lease thoroughly before signing it. Doing so ensures you know what rule you must follow, what the fees are for late payments or damages, and what you can expect from the landlord.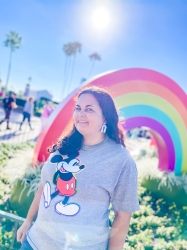 Latest posts by Krystal | Sunny Sweet Days
(see all)