4 Homemade Treats You Can Make for Your Pup
What pupper doesn't love chowing down on a good dog treat? If you're anything like most pet owners, then you want to be sure your dog stays happy, healthy and safe for many years. Of course, that means you might not feed them as many treats as your dog would like. Many store-bought dog treats are filled with animal byproducts and other unnatural ingredients that you don't want to feed your dog. But, have you ever considered giving them a homemade treat instead? That's right — there are lots more homemade treat alternatives than the ones you'd find in the grocery store. Here are some of the best!
Why Homemade?
Homemade treats just taste better. But, they have some other benefits, too. When it comes to the food your dog eats, it's always better to give them things that are healthy (which is why it's so important to learn how to read a pet food label!). Healthy dogs not only live longer, but they're more energetic and less likely to get sick with other ailments. Homemade treats are best for dogs for a variety of reasons — especially in the event that your dog has an allergy to some of the main ingredients in store-bought pet treats. Make sure you list your dog's allergies on their silicone dog tag, too, to ensure that your dog stays even safer.
Here are some other benefits to making homemade treats for your dog:
You control the ingredients. And how much! For dogs that struggle with weight, homemade treats are best because you can monitor how much of the ingredients they receive. You can also control exactly what goes in the treats, too, even if you're following a specific recipe. This is especially beneficial for dogs with food allergies!
You might find it relaxing. Did you know that baking is one of the many ways you can relieve anxiety? Baking is one of the many tasks that requires work but has a tangible outcome, something that tends to alleviate stress. If you've been looking for a way to relax, consider baking your pupper some treats! Not only will it help you be more relaxed, but it's good for them, too.
You can use them to train. One of the best ways to train your dog is through positive reinforcement. Treats are one of the mechanisms for this! Basically, whenever your dog does the action you're asking for, especially while training, you give them a treat. This encourages them to do the behavior because they come to realize a treat will always follow! Having a dozen or so homemade treats on hand is perfect for when you need to train your dog on something.
Anyone can make them. Homemade dog treats are nothing like baking on a television baking competition. Many of the recipes feature one or two ingredients, and they're hard to mess up! Since practically anyone can make them, it's a no-brainer on why you'd want to make homemade treats!
Homemade Dog Treat Recipes
There are lots of homemade dog treat recipes out there that your pup will love. But, here are some of the most delicious — and easiest! — to make.
Peanut Butter Bites: Mix together 2 eggs with ½ cup of peanut butter (or more!) and 2 cups of flour. Mix the ingredients together and then roll it out as a dough. Using a cookie cutter or small but sharp knife, cut out even-sized bites of the dough. Place on a silicone mat lined baking sheet and bake at 350 degrees for 20 minutes. Dogs love peanut butter, and this treat is basically the dog-friendly version of a peanut butter cookie!
Apple and Carrot Bites: Many dogs love apples and carrots, so why not give them something that incorporates both? Grate some carrots (about 1 cup) and then mix them with 1 cup of flour, 1 egg and ½ cup of unsweetened applesauce. It's important to use unsweetened applesauce because the sweetened or flavored applesauce can actually make your dog sick! After mixing the ingredients, roll the dough into bite-sized pieces and bake at 350 degrees until they're golden brown. Make sure to line your baking sheet with parchment paper or a silicone baking mat!
Pumpkin Peanut Butter Cubes: Eliminate the need for an oven with this homemade dog treat recipe! Using a hand or stand mixer, blend together 1 can of pumpkin puree (not pumpkin pie filling), 1 cup of plain yogurt and ½ cup of peanut butter. After blending the ingredients together, place spoonfuls into an ice cube tray. Place the tray in the freezer and let the mixture freeze overnight. When you're ready, pop all the treats out from the ice cube tray and place them in an air-tight plastic bag or container. Whenever you'd like to give your dog a treat, simply give them one of these frozen pumpkin cubes! They'll love the peanut butter twist. They're perfect for your dog to snack on after a long day at the dog park during the summer (don't forget a QR code dog tag for those outdoor trips!).
Savory Dog Biscuits: With so much sweetness, it's probably also a good idea to have some savory dog treats on hand. A simple recipe, these savory dog biscuits take less than an hour to make. Simply mix together ½ teaspoon of salt, 1 cup of rolled oats, 1 tablespoon of parsley, 2 cups of flour, ½ cup of dry milk and 2 eggs to create a savory dough. Make this dough even more savory by adding a teaspoon or two of rosemary to it! In fact, rosemary can also help to repel fleas, so it's a good idea to try and work it into your dog treat recipes anyway. After mixing the dough together, roll it out and use a cookie cutter or knife to make bite-sized shapes. Place them on a baking sheet lined with parchment paper or a silicone baking mat and bake at 300 degrees for anywhere between 40 and 60 minutes.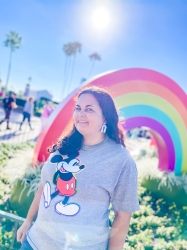 Latest posts by Krystal | Sunny Sweet Days
(see all)