4 Home Storage Solutions for Small Spaces
If you have a small space to work with, organization can become a challenge. Often families have disorganized and cluttered homes because they feel like they simply don't have enough room. Thankfully, this is a myth, and there are plenty of sneaky ways to keep messes at bay! Here are 4 home storage solutions for small spaces.
Make the living room livable again. The living room is the center of the home. It's a gathering place that should feel welcoming, not messy. If you're working with a small one, consider buying furniture that has dual uses. Any piece of furniture that also offers storage space (a coffee table with shelves, an ottoman that opens up) will become your secret weapon. Use shelves and bookcases that can house books, DVD's and picture frames. Don't forget to look up; you've likely got at least 8 feet of potential wall space.
Don't be buried in bedroom clutter. Use under-the-bed storage containers and vacuum-seal bags to store extra linens and out-of-season items (but make sure the containers you use will actually fit under your bed before you purchase them). Get a shoe organizer. They sell over-the-door options, as well as towers that spin, shelves that fit long-ways, and linen options that hang from the bar in your closet. There's simply no reason to have a shoe mountain in your bedroom! There are similar solutions for ties and jewelry, so browse your local organization store or Pinterest for ideas that will work with your unique space.
Create a kitchen that actually works for you. This is one room of the house that can get a little hectic, so think about how you personally use the space, and implement solutions that will make it easier for you. Use canned food organizers in the pantry, spice racks in the cabinets, and utensil storage solutions in the drawers. If you don't use an appliance very often, store it out of the way. Free up space to actually cook and entertain.
Search for forgotten spaces and items in your home. Are you using the area under the stairs? How are you utilizing your closets? Could you benefit from extra shelves or storage containers? Consider installing specially-made storage shelving that hangs from the ceiling in the garage. Think about using armoires to act as room dividers if you need to designate, say, a work space in your basement. Get creative. What do you already have in your home that can be used in a different way? Maybe certain food containers can be cleaned out and reused for storage. Candle jars can hold loose change found in the laundry room. Necessity is the mother of invention, after all!
Look at each space as objectively as possible. Think like an organizer and you'll find ways to maximize your small space.
What's your favorite organizing solution for small spaces? Here are some more organizational posts to get you thinking!
Budget Home Organization Ideas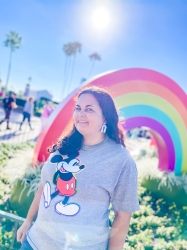 Latest posts by Krystal | Sunny Sweet Days
(see all)