3 Tips to Quick & Easy Meal Prep
Meal planning got you down?! Don't worry about all the chopping, cooking, and organizing. You might think meal planning can be overwhelming, but it doesn't have to be a lot of work. Let's get started to make your kitchen the BEST that it can be:
Get organized before you start. The best thing to do is to make sure that you have everything you need in your kitchen to make it functional for your family. This includes small appliances like an air fryer, an indoor grill, and the essential pots and pans. You also need the right appliances like the new LG InstaView™ Door-in-Door® Refrigerator with Craft Ice™!
First up, there is an InstaView™ Door-in-Door®. You can see right through the glass panel door! Meal planning is easy when you can see everything that you have already. Access on-the-go items, beverages, condiments, and more without having to open the whole fridge.
I also love that there are Dual ice makers with Craft Ice™ automatically create crushed, cubed and LG's exclusive slow-melting round ice on demand, for upscale, craft drinks at home – helping beverages taste their best longer. What is craft ice?!
LG brings one of the hottest beverage trends home with the Craft Ice™ maker that automatically makes batches of slow-melting round ice—without the work

No more messing with expensive and time-consuming molds that only produce one or two at a time
A game changer for home entertainers, Craft Ice™ opens a new world of high-end drinks and keeps your soft drinks, lemonade and iced coffee tasting their best

Additional ice maker on the door produces traditional cubed or crushed ice
LG's exclusive round, slow-melting Craft Ice™ – helping beverages taste their best longer
This can also help you with meal planning since your produce can stay fresh longer. How? Only LG offers 3 innovative cooling technologies that work together to extend the life of fruits and vegetables and help keep all foods fresh and flavorful
More Meal Planning Tips
Make sure you have enough accessories for meal prep. You will need glass or plastic food containers, plastic bags for freezing meals and storing snacks, and don't forget about a good cutting board and knife!
Get Your Family To Help. Kids can help with so many tasks while doing meal prep. Depending on the age they can help cut, cook or put food in containers. While some of these don't sound like much, when you've got several meals and snacks to prepare all of these tasks will help.
Set up an assembly line and assign each person a responsibility or two. When you have multiple children in your household having them help will speed up the process. Plus when it comes to snacks they can make their own and label them.
Children like to be made a part of it and will feel useful. Not only that, but you're teaching them lifelong skills. Both in how to prepare healthy food, but also life skills they need when they get out of the house.
Make Extra During the Week. One easy way to meal prep is during the week while you're cooking meals. Instead of making one casserole or enough soup for one meal make enough for two or even three and freeze the extras. You can use them when you don't have anything else planned.
Also, start freezing extra food that might go to waste otherwise. You can freeze tomato paste, diced tomatoes, noodles, beans, cooked chicken and ground hamburger after it has been cooked. All of these can be used quickly and easily to create meals when it is a busy or late night.
If meal prep is overwhelming start small by doing only a few times a week and then cook extras during the week. You'll start to get the hang of it and want to do more once you realize what a time saver it is.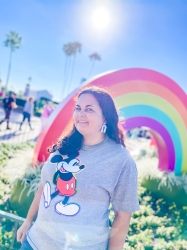 Latest posts by Krystal | Sunny Sweet Days
(see all)