3 Tips for Saving for Your First Home
Purchasing your first home can seem like a distant dream. Things aren't quite as bleak as they seem, though. There are a few things you can do to take your first steps onto the property ladder.
#1 Set a budget, a timetable and then make savings
Start by working out exactly how much your home will cost. This is easily accomplished by using a property finder website to compare prices in your area, but remember to factor in other more hidden costs. Conveyance fees, surveys and (for some but not all) stamp duty also cost money that needs to be factored into your calculations. Next, set a budget that outlines how much you can save each month and how long it will take to hit that crucial deposit.
After that, it's time to start saving. Small increments go a long way. Switch to a budget supermarket, compare energy tariffs (some of these even offer rewards for switching), cut fuel costs by walking/cycling, use cashback sites and even consider freelance work. All of this becomes much easier with a scheduled endpoint in sight and a firmly set budget.
#2 Choose the right savings account
It might not seem like a huge concern, but the right savings account makes all the difference. When you're saving for your first property, every penny counts. ISAs are a popular way to save your money tax free and they also pay interest. These accounts are only the beginning, though.
Choosing a savings account with a high interest rate will help you to put aside a little additional cash each month. Most banks will offer a substantially higher rate to new customers so it's always worth running a comparison to take a look at different introductory rates. Be aware that these often last only a year, though, so you'll need to compare and switch again when the rate changes. It's also worth noting that some banks will only pay their high interest rates up to a certain amount, for example, £20,000. From there, you won't be earning any additional cash, so watch the small print and choose carefully.
#3 Help to buy
No matter what you do, nothing quite compares to receiving a cash injection. Help to buy schemes are government-backed so you can proceed with confidence. They're designed to help first-time buyers onto the property ladder and do so by loaning a percentage of the deposit. This ranges from around 20% in some cases up to 40% in others. Most property comparison sites like Linden Homes will be able to tell you more about the help to buy scheme, how it works and whether it's suitable for you.
Help to buy is big. It's probably the most important addition to this list, and many first-time homeowners find that they couldn't have got on the property ladder at all without it. Help to buy loans have to be paid back, but they're usually interest free for a set period, often around five years. There really is no better way to lay hands on the extra cash required for your starter home, and the government-backed nature of these schemes makes them extremely safe.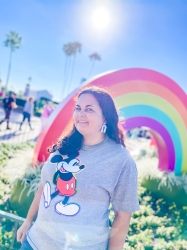 Latest posts by Krystal | Sunny Sweet Days
(see all)