If you know anything about me, you know that I'm a big fan of tropical and beachy colors and decor. Aqua is my favorite color (some days it could be teal or mint), and I love green. I like the colors of the sea, tropical palms and prints, and don't forget the flamingos! If you're ready to upgrade your interior with your favorite summer outdoor themes, stop by Minted for colorful inspiration.
Minted has a variety of art prints and pillows that you can mix and match to make your home have a cohesive feel. Tropical vibes are kind of my favorite, so it is hard to deny this beautiful Foam above wave art print. It's minimal, but yet it still brings the ocean to your home. Paired with a punch of pink on this Flamingos pillow pattern, and your home has a simple pop of color. Minted offers pillows in a variety of sizes as seen above including a lumbar pillow and square pillows in various dimensions. The bigger, the better! I love cozying up on the couch with a variety of colorful throw pillows, and with their selection, it is easy to stock up.
Tropical Home Decor Inspiration
Shop this look: 
Minted has a lot of ideas for wall art. If you're considering making a gallery wall, you can start with their options. You can make customized prints and add personalization to pair with their limited edition art prints. You can order prints on canvas or framed. Mix and match to make your space yours.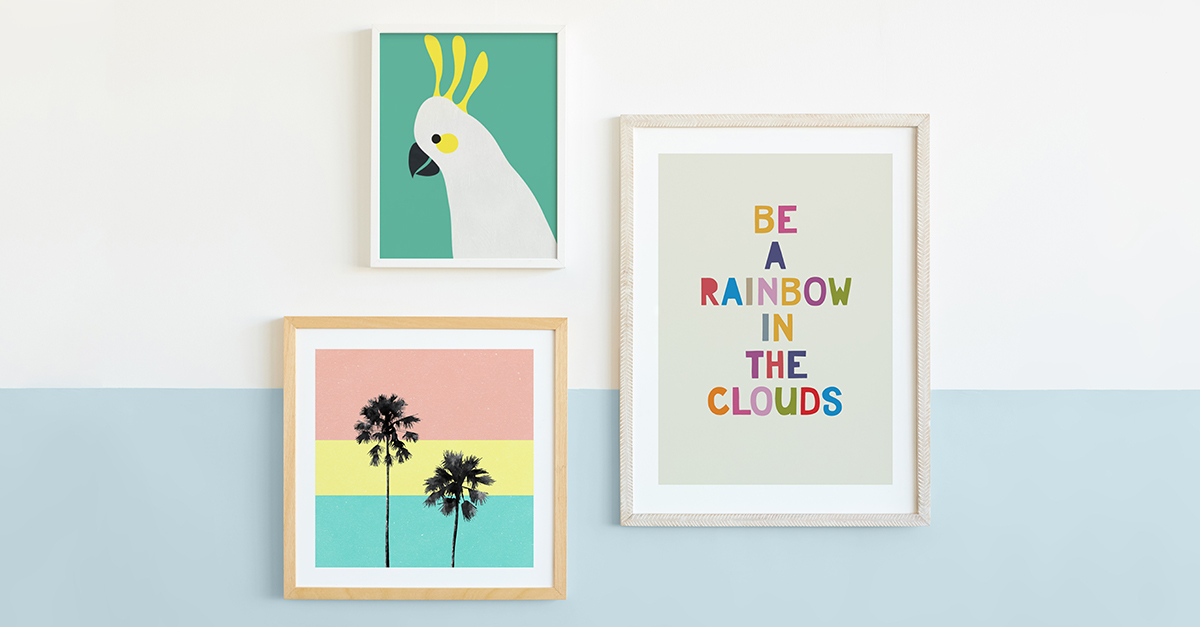 If you're decorating a small space or a children's room, they have a variety of art print sizes to choose from as well. I love the mix of quotes and artistic prints, like these colorful palm trees and bird. Search their website with a keyword or even an idea, and see what related items come up. You might just discover that you CAN be your own interior designer with a little guidance from their website. They have perfectly paired collections too that can help guide you on your journey.
As for my home, we haven't really hung anything up. I hope to soon, but time gets the best of us. I'd love to make my office a pretty in pink space with pops of aqua and teal. I have a teal rug, accent chair, and bookcases… now I just need those art prints!
What style is your home? 
Take Control of Your Day!
Snag a free report to help you get organized PLUS access to my Trello template to show you how to implement these strategies in your everyday life.
Follow along as we cook, travel, and create! From easy recipes to fruity cocktails, Sunny Sweet Days is a place to enjoy a sweet escape. We hope to inspire busy, creative families to explore Florida beaches and theme parks while enjoying good food and saving money. We are based in Tampa, Florida.
Latest posts by Krystal | Sunny Sweet Days (see all)