We received this movie for free to review.
Vibranium is the worlds most functional metal in the Marvel Cinematic Universe. It is the source of all of Wakanda's technological prowess and is the base material for Black Panther's suit, Captain America's shield, and woven into the DNA of entire characters, like Vision. According to Howard Stark, "It's stronger than steel and a third of the weight. It's completely vibration absorbent."
Wakanda is blessed with an abundance of the substance after a vibranium asteroid landed in South Africa. The people of Wakanda have been mining it ever since to build everything from weapons to tools. In the Black Panther movie, we see all the ways that the insanely versatile metal impacts the everyday lives of Wakandans for everything from 3D video chats to hoverbikes.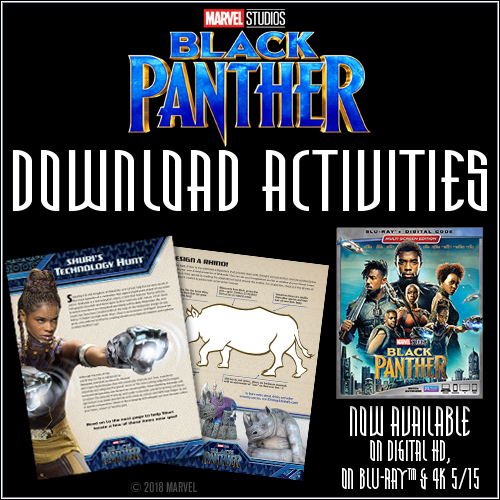 Marvel Studios' "Black Panther," the highly celebrated story of T'Challa (Chadwick Boseman), a young African prince who takes on the mantle of King and Super Hero, has thrilled and inspired generations of moviegoers around the globe. Now, fans can bring home the phenomenon, packed with light-hearted fun, pulse-pounding action and a powerful message, and watch it over and over again, Digitally in HD and 4K Ultra HD™ and Movies Anywhere on May 8 and on 4K Ultra HD™, Blu-ray™, DVD and On-Demand on May 15. With both Dolby Vision and Dolby Atmos immersive sound, 4K Ultra HD offers consumers a transformative viewing experience.
And while vibranium is sometimes used as a dues ex machina to conveniently plug plot gaps in the Marvel Cinematic Universe, it got us to thinking: "What other everyday problems could we solve with just a little of this mythical metal?"
Self-Cleaning Microwaves: Have you ever seen Black Panther's suit get dirty? He can go clawing his way through hordes of Thanos' Black Order soldiers and you never see even a drop of alien guts on him. Imagine if you lined the inside of your microwave with this stuff. Spaghetti-O's would slide right off it.
Potting Soil: Want to impress your neighbors with your garden full of sunflowers? Toss in a little vibranium. According to Wakandan lore, it caused changes within the tropical vegatation. Not only would your sunflowers be as big around as a satelitte dish, they would glow and the seeds would probably cure gluten intolerance.
Super Knives: I always have to put a fresh sharpening on my knives before I use them, especially when your wife uses your $30 fish filleting knife to cut the stems off of flowers. Vibranium weapons are permanently, insanely sharp. You'd never have to replace a knife again.
Million Dollar Shave Club: Speaking of blades that get dull way too quickly, razors have gotten a little ridiculous nowadays. I often wish I needed just one razor for the rest of my life.
The Ultimate Pot-Holder: The Basotho blankets of the Wakandan outer guard have shown that fire and heat is no match for cloth that has been woven with vibranium. Some vibranium gloves would be pretty handy when it comes to all-metal pans. Even better if you could actually make the pan handles out of it and you could grab the entire pan out of a hot oven bare-handed.
Privacy Chamber: One of the reasons that Wakanda is able to remain so well hidden from the rest of the world is thanks to a vibranium dome that hides the capital city from any one that would possibly fly overhead. There are so many possibilities for this technology especially when you need a few moments of privacy from the constant din of a house with small children with few boundaries. You could even trick the force field to projecting a clean bathroom to the rest of the outside world.
Super Tires: Have you ever had to change a tire on the side of a desolate stretch of Alligator Alley, the part with the guardrails ridiculously close to the road while large trucks carrying even larger boats barrel down the highway just feet from your face? I have. It was a harrowing experience requiring a Hulk-sized amounts of intestinal fortitude. Imagine never having to change a flat tire again.
Soundproof Pillows: One of the characteristics of vibranium is that it absorbs all kinetic energy, including sound waves. If you have a significant other that snores, this sounds like the most genius ideas ever.
If you had a stash of vibranium, how would you use it to make your life a little easier?
Take Control of Your Day!
Snag a free report to help you get organized PLUS access to my Trello template to show you how to implement these strategies in your everyday life.
The Semi-Pro Dad is the resident chef and philosopher who likes fried food and craft beer. Traded in the ink-stained life of a newspaperman to share random thoughts on the internet.
Latest posts by J. Scott Butherus (see all)