Looking for a new planner? Be sure to read my ultimate planner reviews for 2018!
I'm going to just say it: this is my favorite planner. The price tag might be high for someone who is not used to using a paper planner, but it is SO worth the price. Not only are the prints adorable, the planner pages are COMPLETELY functional. This is the only planner I have used for two years in a row, and I look forward to settling into my new 2018 Happy Stripe Simplified Planner.
This planner is easy to fall in love with. From the shiny gold coils to the colorful tabs, every detail of the Simplified Planner has been thought out. The paper is thick and luxurious. I can use any pen I want including my Paper-Mate Flairs or Energel gel pens in bright colors with NO shadowing! The daily layout has tons of room (almost too much actually!) for me to braindump everything I have to do each day.
New Simplified Planner Covers
Looking for an academic year planner? Emily Ley released her new covers, and they are AMAZING. Shop NOW if you want the cover of your dreams. The mint pineapple is my favorite, but happy stripe is a classic.
If you've never used a daily planner, you might not think you will write in it each day. When I "skip" a day or so, I use those pages for notes. I have a 2016 Simplified Planner that is more of a daily journal than a planner. I covered up the date and wrote a category for each page (projects, blog post ideas, etc.), and this cemented the idea that I love this planner no matter what version I'm using.
The daily page has hours from 6 am to 9 pm along with a to-do list column. The bottom has a "meals" and a "notes" section, but I never use either for those purposes. I simply just jot down whatever is on my mind…gratitude, blog post ideas, etc.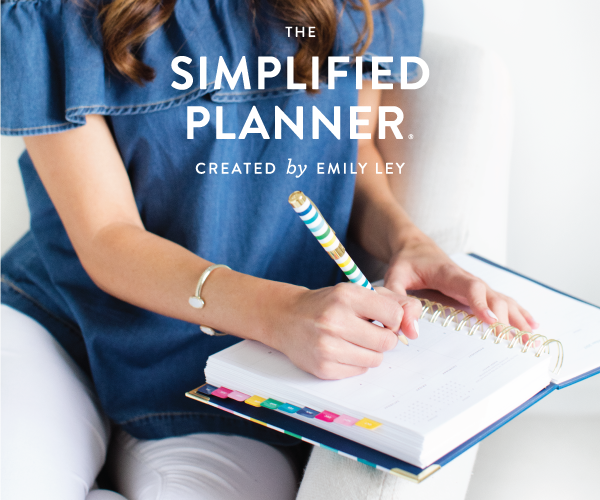 You also get a page of stickers in the front which is a nice bonus. I also have bought stickers in the same colors as the Emily Ley design on ETSY.
If you're shopping now, not all covers are available. These sell FAST, and I love to buy on launch day! It looks like there are floral print covers available now, and the new editions go on sale in May. If you need more simplicity and organization ideas, her books are also worth a read. They make a great gift!
Latest posts by Krystal | Sunny Sweet Days (see all)
Are you looking for a planner that can organize and simplify your life? The Simplified Planner has been my favorite planner for over two years, and it has JUST enough room for your busy life!