The Best Planners For Busy Women | Planner Reviews
Grab a cup of coffee and get cozy. This post is going to be EPIC!
If you haven't picked your 2018 planner or you need something more functional for your busy life, I have you covered. I can't help myself, but I buy ALL THE PLANNERS. Each one has a purpose or they are fun to use for a few weeks before using something else. Some of these planners are what I consider "luxury" items since they cost over $50, but others are just a few bucks or so and are perfect for taking on the go. If you need a lot of room to write your to-do lists or you want space to doodle, you are sure to find your new favorite planner on this list!
2018 Planner Reviews
Honestly, this is my favorite planner overall for sure. The price tag might be high for someone who is not used to using a paper planner, but it is SO worth the price. Not only are the prints adorable, the planner pages are COMPLETELY functional. This is the only planner I have used for two years in a row, and I look forward to settling into my new 2018 Happy Stripe Daily Planner.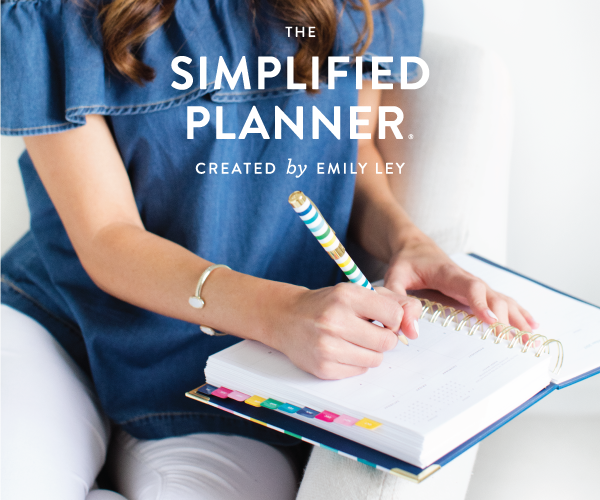 Why I love it: The paper is thick and luxurious. I can use any pen I want including my Paper-Mate Flairs or Energel gel pens in bright colors with NO shadowing! The daily layout has tons of room (almost too much actually!) for me to braindump everything I have to do each day.
If you've never used a daily planner, you might not think you will write in it each day. When I "skip" a day or so, I use those pages for notes. I have a 2016 Simplified Planner that is more of a daily journal than a planner. I covered up the date and wrote a category for each page (projects, blog post ideas, etc.), and this cemented the idea that I love this planner no matter what version I'm using.

I am basically obsessed with how functional this planner is. It is a softcover with a plastic spiral and costs about $10! It's far and away the best planner for busy families. The BEST part? There are perforated shopping list pages in the back!
As for your weekly view, there are verses to read and places to add your menu and weekly tasks.
The colorful dividers offer a pop of color, and there are extra tabs for tasks, projects, contacts, and more. I can't believe all the room that is in this pint-sized planner.
This planner is more of a spiral notebook, but it is so fun for home, work, or school! I love the size (it's 9″ x 11″) so it has tons of room for ideas, to do lists and schedules. However, because of its size, you're not going to throw it in your bag and go. If you're a student who carries a backpack or a working mama who uses a tote bag, you would be able to carry this lightweight notebook with you. As for me, I'm going to keep this one in our kitchen for notes and planning. It is also only about $30!
This is unlike any planner you've ever used before since it has six different sections. It offers undated monthly calendars, weekly task pages, notes pages, sketch pages (blank white paper), grid pages, and even coloring pages. That's why this planner reminds me of something I would have loved to use in college OR it is the best companion for my desk job when I'm doodling away during meetings. 😉
The weekly pages are so fun! Track your habits, water intake, and your ongoing to-do list. I love all of the Bloom products, and they're SO affordable!
Best Fitness Planner: Blogilates Fit Planner.
Spoiler alert: It looks like this one is sold out, but hopefully this will restock it soon!
This pretty rose gold fitness planner is hard to ignore. I'm not sure what I will use it for, but it is truly gorgeous. Inside are monthly tabs with room for planning (it's so rare to find a planner that has monthly, weekly AND daily planning but this one does!), meal planning, water intake, AND habits.
In fact, I'm pretty sure I've tried to re-create this planner in a binder using printables from Pinterest. This planner has it all in one!
This one surprised me this year! I wasn't expecting it to be so large, but it is PERFECT for all my big dreamy plans for my business this year. The colors are stunning, and in fact, this pattern has the colors of my brand prominently featured throughout.
The pages are thick and my Paper-Mate Flairs don't bleed through. At $58 it is a bit of a splurge, however, since I manage TWO blogs, have a day job, and juggle household duties, I'm going to be using this one to map out my BIG goals for the year along with product launches.
It scores bonus points for having extra notes pages and a habit tracker in the back. PLUS, the weekly layout is perfect for blocking out my time. I can't write long to do lists that don't inspire action. I have to "schedule" everything. It is a much more realistic way of looking at the projects I need to do for growing my brand online.
If you need something portable that you can take with it, try the Filofax Malden in a pocket size. Not only can you keep track of your to-do lists since this fits nicely in your purse, I turned mine into a wallet with card slots!
Best "no frills" planner: Hearth and Hand at Target.
It is no surprise that the Hearth and Home collection at Target is so popular! The clean designs and calming colors match my home decor, and I LOVE their style! For spring 2018, there is a new line that includes office supplies. I headed to THREE different Targets before I found this planner, and it is gorgeous.
It is VERY simple with a weekly layout that is unlined, but there are spaces for monthly goals. There are inspirational home decor ideas throughout the planer (about one a month).
It's about $15 so if you see it in your local Target, it's worth a look. The linen cover matches the other linen office supplies I bought from them too.
Experiencing planner overwhelm?
You can always pick up a $1 planner at Target's Bullseye Playground! They had a variety of monthly planners, and this one is too cute!
Which planner is your favorite? Did you commit to a planner for 2018 yet?
      Never miss to plan your schedule in a systematic way using Microsoft planner included in Office 365 E5 suite with tools such as QuickBooks Enterprise Hosting that will help you to stay updated with your household accounting from anywhere on any device.
More planner reviews [updated for 2019]: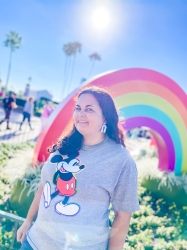 Latest posts by Krystal | Sunny Sweet Days
(see all)