Each and every week, I'll be sharing easy ways to maximize your dollar at your local dollar store. From five dollar meal ideas to closet organization, you can find a LOT for just a buck. This marks the beginning of my fifth month of weekly articles about saving money.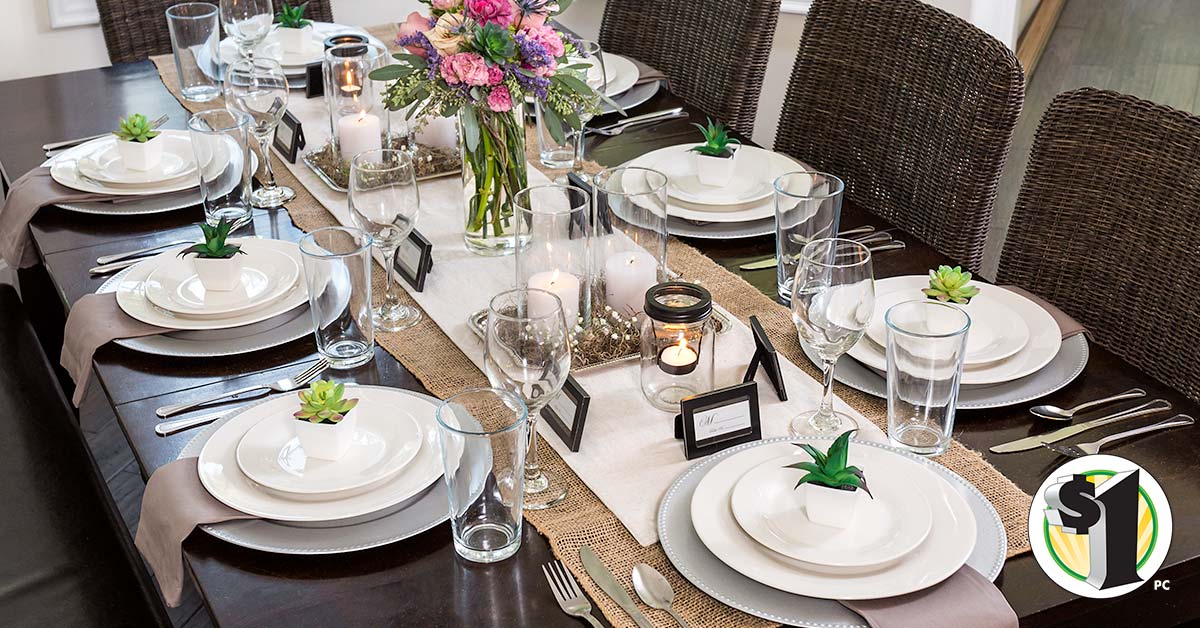 Wedding decor can be found almost anywhere you look. If you like the DIY style and are willing to get creative, the dollar store might be the best place to look! Whether it's your local dollar store, the Dollar Tree, or Target's One Spot, there are so many options to find unique centerpieces or even dinnerware on a small budget.

Party Favors. One thing I've noticed is that the dollar store has a ton of wedding party favors to choose from. Since most of the party favors at the dollar store are clear, they can go with almost any wedding theme. I've seen cookie cutters, wine bottle openers, candles, and even bubbles. You can order some things in bulk on the Dollar Tree's website, or you can scour Target's One Spot for cute koozies for the bar! They have sunglasses and flip flops too if you're having a beach wedding and want some cute ceremony handouts!
Glasses. One of my all-time favorite wedding décor pieces to buy at the dollar store are drinking glasses. If you are doing your own bar (we totally did!), the Dollar Tree is the first place to look. We actually used plastic wine glasses (the heavy duty "crystal" kind) and plastic Solo cups where you could "etch" your name on a chalkboard. If you're doing your own catering, you can look for at their dishes or partyware as well.
Candy Buffet.  If you're like most people, you love candy! I truly love the idea of decorating a wedding with a gorgeous candy buffet. There are so many pieces of candy you and your guests can enjoy available at the dollar store. Target also has colorful gum balls and other sweets in color coordinated options. Don't forget to pick up a few jars or vases for your buffet.
Candleholders. When it comes to wedding decorations, you don't need to spend a ton of money. In fact, beautiful pieces of wedding décor you can utilize from the dollar store are candleholders. They make the perfect centerpiece and you can dress them up however you'd like.
Vases or Jars. Keep in mind that the dollar store has a large selection of vases and jars available. Whether you need a skinny, tall or wide vase, you can find it at the dollar store. Dress it up a bit to match your wedding theme and you're good to go! Use ribbon or even washi tape to add a colorful spin to your decor!

Don't forget the cake! Don't forget a cake knife (I found one at the dollar store) along with a fun cake stand. You never know what you will find if you look. If you're doing cupcakes, there are always adorable cupcake toppers available too.
When it comes down to decorating for your wedding, there are plenty of options at your local dollar store. Look for more wedding ideas below!
This is the next article in a series about wedding budgets and DIY for busy brides. Prepare to read a few tried and true tips to planning a wedding this week! I hope that it helps and inspires you to plan your own fete or share with a friend who needs a few ideas. Happy planning the wedding of your dreams!
Want more wedding tips? Read on!
Dollar Tree Shopping List
Clearwater Beach Wedding
Find all my Clearwater wedding ideas and other inspiration!
Latest posts by Krystal | Sunny Sweet Days

(see all)

If you need a few thrifty ideas for a wedding, shop your local dollar store first. You might be able to find centerpieces or other decor ideas for just a buck!