This shop has been compensated by Collective Bias, Inc. and its advertiser. All opinions are mine alone. #NewYearFortune #CollectiveBias
Something that I like to share on my blog from my everyday life is my desire to encourage others to celebrate the every day. Whether it's with a simple party idea, an easy recipe, or a kid-friendly DIY, I want to show you ways to celebrate more. With the Chinese New Year and the Year of the Sheep about to begin (in fact, it falls on my fourth wedding anniversary this year!), this is another reason to get your family together and celebrate. The Chinese New Year reminds me to share my good fortune with others and to enjoy every moment of every year. I decided to make my own fortune cookies this year and to create white crayon secret message fortunes. It's adorable, and this is a new family tradition that I'm going to keep!

One thing that you can never forget when you're trying to celebrate a holiday is the FOOD. Whether you're crafting or celebrating, a good party appetizer is always on the menu. For this past weekend's get together, I found Tai Pei® Egg Rolls and Tai Pei® Spring Rolls at my local Walmart.

There are many flavors to choose from, but I ultimately decided on the mini spicy chicken egg rolls and the mini chicken spring rolls. The products are packed with traditional style and flavor in chicken, pork, vegetable, or shrimp. They are authentic Asian appetizers – ready in minutes.

Each came with three packets of dipping sauce (it was a delicious sweet dip!) that were party friendly. Within minutes we had crisp Chinese food that kept us full during our afternoon craft party.

Chinese New Year is an easy-entertaining event that celebrates the wish of "good fortune" to all in the year ahead, with traditional appetizers and red-envelope gifts. To welcome the Chinese New Year in your home, try making your own fortune cookies. While you could cook your own, these colorful paper cookies kept my preschooler entertained. They're also perfect for school-aged children who are amazed at just what a white crayon and watercolor paint can do. Ready to try this craft yourself? All you need is construction paper (or copy paper if you're in a pinch!), scrapbook paper, watercolor paint and a medium paintbrush, and a white wax crayon.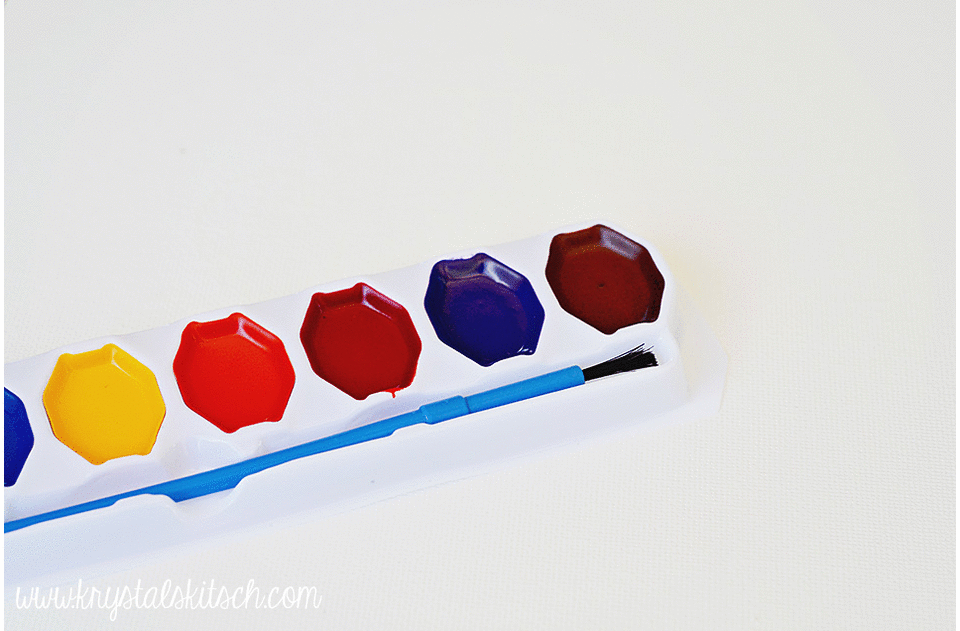 Use the white crayon to write messages of love and happiness on small strips of white paper. Create your fortune cookie by using a glass or other circular object to trace circles onto the scrapbook paper. I used a small bowl to trace. Cut the circle out carefully. Fold the circles in half, but before you crease it, add a dab of glue to seal. Slip the folded fortune inside and apply pressure to gently bend your cookie.

It may take a few tries to get them perfect, but when you do, they're adorable! Pass them out and share your fortune! This watercolor fortune cookie craft is fun to try and can be customized based on whatever crafty supplies you have in your arsenal. Perhaps you have other embellishments to add or you want to create Year of the Sheep specific prints. They're so fun that you can't just make one!

Dip your paint brush in a cup of water, dab into the watercolor paint, and gently brush over your white crayon message to reveal what appears!

You can also create larger messages on pieces of paper in the same way. Celebrate the Year of the Sheep with red paint and white crayons. Share good fortune with your friends and family!

Are you looking for additional Chinese New Year celebration inspiration? Visit Tai Pei® on Facebook, Twitter, and Pinterest.
Tai Pei® Good Fortune in Every Box™
Visit the Chinese New Year app on the Tai Pei® Facebook page. The Red Envelope tab will include a coupon while supplies last.
How do you celebrate holidays at home? Do you find a reason to celebrate the every day?
[amazon-related-products keywords="fortune cookies"]
Take Control of Your Day!
Snag a free report to help you get organized PLUS access to my Trello template to show you how to implement these strategies in your everyday life.
Follow along as we cook, travel, and create! From easy recipes to fruity cocktails, Sunny Sweet Days is a place to enjoy a sweet escape. We hope to inspire busy, creative families to explore Florida beaches and theme parks while enjoying good food and saving money. We are based in Tampa, Florida.
Latest posts by Krystal | Sunny Sweet Days (see all)
Celebrate Chinese New Year with this easy watercolor fortune cookie craft. Paint a message of good fortune to celebrate the year of the sheep!