Now that all the cards are sent, I can participate in this year's Christmas Card Carousel & a linkup hosted by Kimberly's Korner — where you get to share your cards! Great idea. I'm glad I sent mine off early this year!
I knew I wanted a card with all the dogs, but it's impossible to get them to sit still… So I decided to go cheesy funny this year. Christmas Props. Dog Treats. Tripod. It worked out well. Luckily I found a card that had a perfect layout for both the picture of the humans and the pictures of the pups. :-)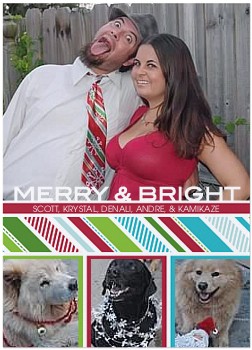 Merry Little Stripes Christmas Card
Obviously — used Shutterfly. They had super fast shipping… let's see… The color is much more vibrant in person and not so dullsky. I ordered about 50 of these and sent them out to the same group of people that got wedding invitations and a few others we added to our list along the year!
I also ordered several watercolor cards that I sent to blog friends to spread the FL sunshine! So — you probably received one of the following three:
Santa is a pirate!

Holiday Palm Trees — our version of Christmas trees :)
Or…


The holiday porch in Florida!
These are all from the
Caswell Galleries
and they have other cards/prints as well — East Coast, West Coast, etc. I saved one of each so I could frame and make part of our holiday decor in coming years.
Even more, I ordered some cupcake cards from Vistaprint for some other special people on Swap-Bot… and even more $1 tree cards for random Christmas card swaps! I think I've sent out over 150 Christmas cards this year. Sheeeeesh! It didn't feel like a lot as I was doing them since I did a few at a time, but my mailbox has sure been happy lately with all the fun Christmasy mail!
This weekend I plan to display all the cards until the New Year with a DIY I found on Pinterest. Of course. I needed something that could hold a LOT of cards. I think I found just the thing! :)
But, without further adieu, some outtakes from "Let's Take a Semi-Attractive Christmas Card Picture" day:

NOT amused.

DIRTY dog. Refused to get out of dirt.

STOP MOVING!

Though — this is a favorite. I got this one blown up and framed!
Rustic Chic Christmas Decor Guide
Download Rustic Christmas Decor Ideas for creative inspiration for your holiday home decor. These home ideas are simple and easy for your busy holiday plans.
Follow along as we cook, travel, and create! From easy recipes to fruity cocktails, Sunny Sweet Days is a place to enjoy a sweet escape. We hope to inspire busy, creative families to explore Florida beaches and theme parks while enjoying good food and saving money. We are based in Tampa, Florida.
Latest posts by Krystal | Sunny Sweet Days (see all)