This shop has been compensated by Collective Bias, Inc. and its advertiser. All opinions are mine alone. #NatureMadeProbiotics #CollectiveBias

Working at home can be the best and also the worst. I seem to forget to take breaks and go outside. I forget to take care of myself. I fall into bad habits like slouching, drinking coffee to power through the day and binge-watching TV all day. While there are AMAZING perks to working at home (flexibility, being able to be available for my son when I need to be and it's fun!), there are moments when I have to literally rip myself away from the computer. To inspire myself, and you too, I want to talk about daily habits that can become routines with a few refreshing tips. It's not just about drinking enough water, it's about taking care of your body inside and out.

I recently heard about Nature Made® Digestive Probiotics + Energy‡† B12 Adult Gummies! I found them at Walmart at a trusted, everyday low price, near the other multi-vitamins and supplements, and I learned that probiotics are "good" bacteria that naturally exist in cultured or fermented foods (for example, yogurt and certain cheeses). These "good" bacteria offer benefits to your digestive system, crowd out unwanted organisms, and allow more of the "good" bacteria to present in your gut.

Why use a probiotic supplement? It's a great way to increase your intake of "good" bacteria and naturally support your digestive health.†
How to Keep Track of Daily Habits
Put everything in an easy to find spot. Your mind functions better when things are where they are supposed to go. Make things simpler by putting things back where they go. Everything has a place like vitamins, your hairbrush, your mouthwash.
Set alarms on your phone. If you are having issues sticking to your everyday routine, set an alarm! It's totally OK if you set an alarm every hour to remind yourself to take a break from your computer or to take your Nature Made® Digestive Probiotics + Energy‡† B12 Adult Gummies.
Use a planner. A paper planner may be the easiest way to track your habits, but they are not always the most portable.

HABIT CHECKLIST
Try a laminated checklist, my favorite method! You know I would come through with a checklist and this 10 day habit jumpstart might be what you need.
You can laminate it and reuse it! Just use dry erase markers.
While some people say it takes 21 days to start a habit, I think you can do it in ten if you are truly focused. Use this checklist and brain-dump everything that you need to do each day. Some of my habits are inbox zero (making sure my email inbox is completely read/deleted/responded to), drinking enough water, walking 10,000 steps and publishing a new blog post each day. Your habits will be different. Download this PDF and get started!
Have an accountability buddy. Find a friend that wants to do some of the same habits as you. Perhaps it's starting a new skincare regime or taking your dogs for a walk at the dog park. Include other people and get support on your journey!

What habits are you going to start today? I'd love to hear about them!
Free Printables to Help You Get Organized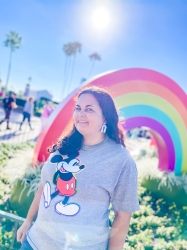 Latest posts by Krystal | Sunny Sweet Days
(see all)